Welcome to PAKMART

Welcome to the official Pakmart Limited website. We are a Ghanaian company that mainly sells to Diplomatic Community, Fishing and Shipping Vessels, Ship Crew, Ship Chandlers.
Pakmart sells a wide range of products including Dairy Products, Rice, Biscuits, Beverages, Noodles, Cigarettes, Alcoholic and & Non Alcoholic Beverages, Confectionary , Soaps, Detergents, Korean Food, Beverages, Chinese Drinks, Water etc
Pakmart adheres strictly to the procurement and sale of high quality brands. The company's procurement department has been tasked with ensuring that goods are procured only from reputable companies. We also follow a pricing policy, which has made us competitive in its expected target markets.
Contact Us
Phone:
+233 303 205028
Email:
info@pakmartdutyfree.com
Address:
Ground Floor Soli Fisheries Building,
Tema Fishing Harbour,
Tema, Ghana.
P.O. Box TT 687, Tema New Town, Ghana
Locate Us On Google Maps
Order Online Now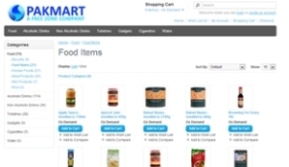 Go to Pakmart Online Shop